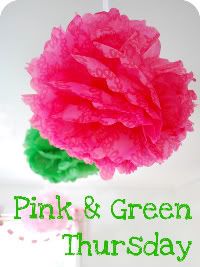 So, why a food edition? I was eating watermelon last night, with just a tiny bit of salt, and it was perfect.
The pink was perfectly ripe, the rind was the perfect deep green. It was a moment of bliss. And now that I have at least one of my blog friends shuddering (sorry!), here are some more pink and green food delights:
When it's eleventy hundred and one degrees outside, I cannot live without limeade.
Frou frou pink drinks would not be amiss, either.
And here's a cute variant on black and whites, courtesy of
Slashfood
And my obsession with pink and green cake continues. This one, cached from
a UK bakery that appears to have gone out of business
is hilarious!
Hope everyone has a lovely pink and green day!