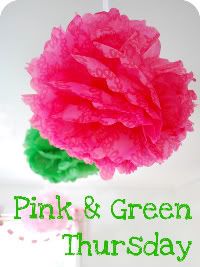 I love Pink and Green Thursday and I love perfume. Tons of scents fit this category, so I thought I'd share a few:
First up - Fleur d'Interdit came out in 1994, and was very big at my college. Lots of girls wore Sunflowers and Pleasures, but this sweet floral touched with fruit had a following, too. I still wear it every now and again for nostalgia value. I love the bottle!
Cabotine de Gres is a warm green scent that's beautiful and very feminine. I find it sparkly and vivacious, and I think it would go well with Lilly.
I cannot mention green perfumes without Balmain's Vent Vert. This beauty from the 1940s has been reformulated several times and it's not as astringent and sharp as it used to be. Still a classic, though.
Yves St. Laurent's Paris has been around since the 1980s, and I think of it as the quintessential pink scent. It's sweet, rosy, and very girly.
Estee Lauder Pink Coral (a spinoff of Pure White Linen) is another pinky scent that I think would be perfect for a preppy summer. It's light, slightly fruity, but also touched with what smells to me like the breeze over the ocean. Very nice.
And of course you can't mention pink and green perfume without Lilly Pulizer Wink. Isn't this cute! I know
Miss Janice
would approve.
Happy Thursday to all!