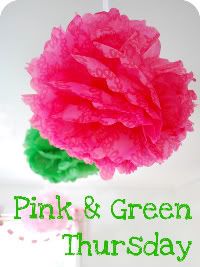 This week I'm playing along for my first
Pink and Green Thursday
. I thought I'd post some goodies I'd seen in my travels around the internet. First up is
Beauty Story
, which is having a sale on Caron perfumes. They don't do referral links, but if you'd like an invite, please email me and I'll get you one. Among the treasures there today is the soft, powdery Fleurs de Rocaille. This one has been around since 1934, and is a beautiful, very feminine scent. And doesn't it look lovely?
The men aren't left out either. For them, we've got the nice green of Caron pour Homme. Isn't that a lovely shade of green?
And then I headed over to my budget downfall -
EBay
. That place gets me every time! I saw all kinds of lovely pink and green on offer there, and here are a few highlights. First of all, I am in love with this Lilly Pulitzer girls' dress. I had one very similar when I was little!
And this craft ribbon is pretty cute too:
I also like this pink and green glass vase.
Though for a real handbag,
Etsy
has all kinds of options. This print from DragonDesigns has a very retro look and I'd wear it to spice up one of my neutral work suits.
And for the babies and toddlers, here's a little headband from PrincynParis:
Hope everyone has a good pink and green day!